"Our mission is to identify not only people, but also their needs.
We will minister to, care for and connect with our congregation and encourage them to do the same, as disciples of our Lord, Jesus Christ."
Need a Ride?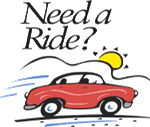 The Congregational Care Committee maintains a list of drivers who are willing to pick up members and take them to medical appointments, bring them to Sunday School, church, and other church functions they may want to attend. In order for us to be able to accomplish this task we need to maintain a list of drivers.
Any request for transportation, meal, or need that we can help with can be directed through our church office (804-276-4289).
Jean Chappell is the coordinator. If this is something you feel you can help with, please call Jean and get your name on the list. Jean will do her best to make sure we spread out the work so no one is over worked.
 Congregational Care Committee members for 2017 are:
Nickie Price
Betty Gregory
Linda Wettle
Jean Chappell